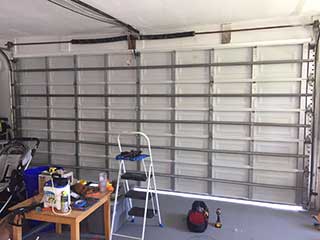 Your garage door springs, as well as your opener, can experience a wide range of issues over time. The wear and tear damage that overhead door systems accumulate makes some accidents unavoidable. However, with the right maintenance routine, you can prevent a lot of issues from affecting your door. Since this type of system is under a lot of stress and a high amount of tension is involved in its operation, it's better to let a professional take care of this aspect for you.
Keeping Everyone Safe
There are a lot of different things that our technicians do during a maintenance appointment. One of the main focus points is testing the safety reversal feature of the opener, to ensure that the door is safe to use. Sensor alignment is very crucial when it comes to that, as the photoelectric eyes that detect obstacles must be positioned correctly, and their lenses must be unscratched and clean. We will make sure that the door reverses when something gets in its way, and that the opener has no trouble detecting any obstacles.
Ensuring Efficient Performance
Lubrication is a major aspect of garage door maintenance. That's because it helps alleviate a significant amount of the friction-based wear the system's moving parts are subjected to. Torsion springs, as well as steel rollers, must be lubricated to keep their movement smooth and silent. The hinges can also benefit from this, as do various bearings. Our technicians will perform this task, and will also take care of any spring adjustment that proves to be required. The latter is a way to keep the door from becoming unbalanced, and will also reduce some of the strain the springs are under.
Book An Appointment Today
To make sure your overhead door is able to continue functioning properly and safely for as long as it can, give our team at Garage Door Repair Laveen a call. Our technicians will see to it that every part of the system is in the best condition possible.
We also offer the following:
Garage Door Off Track Repair
Garage Door Safety Inspections
Emergency Broken Spring Replacement
LiftMaster Garage Door Opener Repairs