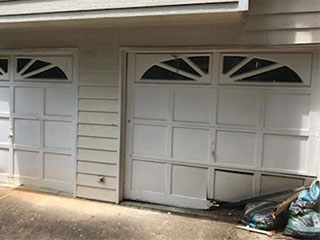 You think that everything's just fine, then all of a sudden you can't open your garage door. Often, such problems can be prevented or put off with maintenance, but sometimes there is nothing you can do. The key thing is to deal with them as soon as they arise. Read on for a number of common issues we see in relation to garage doors - we can help fix them all.
Door Off Track
The most common cause of this problem is a broken lift cable. The door starts hanging on one side and the roller leaves the track. It may go without saying, but don't attempt to open the door in any way when this happens or you may have an even larger problem on your hands. The first step of the repair usually involves replacing the cable with a new one with the same specification. If the track is bent, most of the time it can be straightened and re-aligned.
Opener Troubleshooting & Repair
Not surprisingly, the most common opener related issues are usually hardware related. If the motor starts to make weird noises and you find the door behaving unpredictably, this could indicate a broken moving gear or one that is failing. If this is the issue, our experts can provide and install the replacement for you and test the all round safety of the system.
Torsion Spring Fix
Is the door hard to open or does it remain closed when you try to open it? It could be that the torsion spring is to blame. In the first case, there may be too little tension. In the second one, there may be too much. The adjustment for increasing or reducing the tension has to be accurate for producing the best result. If there are deformed coils, or you notice other significant wear, we recommend replacing the whole component as soon as possible before it gives way completely.
Problems With The Rollers
These small components are attached to the panels with the help of hinges and guide the door along the tracks when it moves up and down. Sometimes, a stem can get twisted or the metal rollers can become rusted and worn. If your rollers are past their sell by date, our experts can help replace them and get your door back to working condition.
Whatever the issue you're dealing with, contact our team today at Garage Door Repair Laveen - we're here to help!
Need more? We also provide:
New Opener Remote Controls
New Garage Door Installation
Garage Door Cable Replacement
Roll up Garage Door Maintenance